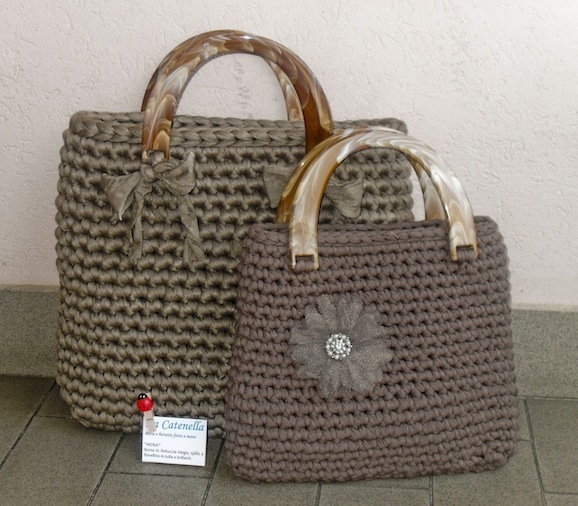 How to create a crochet bag with ribbon
Materials
– 700 gr of cotton (or wool) ribbon (for sale here)
– crochet hook nr. 12
– a couple of stiff handles
– one brooch or other decorations
Advices
Don't worry if the ribbon ball finishes: with good bobbles – that have to stay inside the bag during working – you can connect the ball at a new one!
If at the first attempt the base of the bag isn't good, try again: ribbon is easy to undo, but when the bag is finished, it will be indestructible!
Somebody works too "strait" and other too "wide": work as you like and as your fantasy suggests!
Pay attention: working is different from a type of ribbon to another. There are ribbon more elastic, other thick or soft… is possible that you have to do more or less crochet than we do in our bag.
The bag you can create with this tutorial
Process
The base
1. Cast on 16 chain stitch;
2. do a single crochet in every chain stitch for 2 turns/circles: you will have a rectangular extended base;
3. at 3° turn/circle, increase at the 4 corners of the base (in the last single crochet that close the line, do other 2 single crochet: like this for the 4 corners).
The bag
1. From the 4° turn, go on until the height you wish (we suggest 20 circles), only turning around the base and working with single crochet, without increases;
2. finish the bag with the last turn/circle using slip stitch.
The handles
1. Attach the stiff handles turning the ribbon into the hole, then fix it (you can attach the handles on the outside or on the inside of the bag, as you prefer).
How to finish
1. Cut and sew up the ribbon in excess, on the inside of the bag (if you prefer, you can cut and sew up before the handles).
You have only to take the crochet hook… Have a nice crochet bag work!
Chiara&Tizy, "La Catenella"
Authoress: Chiara&Tizy, "La Catenella" from Bergamo (Italy)
Up and down with a crochet hook…for passion!
Mum Tizy and daughter Chiara – always at variance about dresses, food and ways to do – have found their point of union: ribbon&crochet, in order to create nice bags! Only a few months ago was born "La Catenella", the name of those original bags that are very popular in north Italy! Chiara&Tizy make crochet bags for every tastes: coloured, simple, with decorations…They make crochet bags for passion – and enjoy theirselves soo much!
Stay tuned!
Delicious variations
The bags you see are made by "La Catenella". Write to Chiara&Tizy at: lacatenella.bg@libero.it
Ribbon for sale